Heads Up, this doesn't matter anymore! This is apart of the Old Continuity.

This article Yami Akuma is not apart of the current Akkipuden continuity and has no relevance to the current story!
Yami Akuma
Kanji

闇の悪魔

Rōmaji

Yami Akuma

Alias

The Merciless Shadow

Characteristics

Race

Half Human
Half Demon

Gender

Male

Birthdate

Unknown

Age

18(Deceased)

Height

6'0"

Weight

172 lbs

Hair Color

Black

Eye Color

Red

Blood Type

Unknown

Unusual Features

Glowing Red Eyes

Professional Status

Affiliation

7 Harbingers of Hell

Occupation

Samurai

Team

7 Harbingers of Hell

Partner
Base of Operations

Unknown

Personal Status

Status

Deceased

Relatives

Unknown

Alignment

Evil

Abilities

Signature Skill

Shadoumasuta

Weapons

Swords
 Yami Akuma is a member of the Akuma Clan and is a S-rank Samurai who is apart of the 7 Harbingers of Hell. He was the second member of the group to be defeated and killed. 
Appearance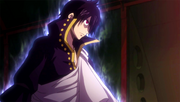 Yami Akuma has black hair, red eyes, and fair skin. He wears black and dark purple clothing with some white cloth attached to his uniform. He is pretty tall and has a slim build and likes to wear his samurai armor some times. 
Personality
Yami Akuma is a very serious, aggresive, and dark person. He is extremely merciless, brutal, and cruel. This is displayed by how brutally he massacred Shizune by ripping his sword through her skull and decapitating her. Yet despite that, he showed no remorse whatsoever and threw her dead headless body onto Karasu. He can also be distracted very easilly. 
Background
Yami Akuma's background is largely unknown except he is apart of the Akuma Clan .
Story
Chunin Exams Arc
Jutsus & Special Abilities
Yami is an exceptionally strong opponent who is capable of taking on vast amounts of high-level ninja and winning by himself rather easily. When he combines his skill with a sword and his ability to manipulate shadows and darkness he becomes an incredibly powerful foe who cannot be stopped unless he is exposed bright lights, which is his only weakness. If he is also separated from moon light when he is killed he will not come back to life. 
Kenjutsu
Due to being a member of the legendary Akuma Clan and a full-fledged Samurai Yami is a master of kenjutsu and is very skilled in using various different types of swords in many different ways. He is among some of the greatest swordsmen in the world and cannot be defeated when it comes to swordplay by anyone other than his fellow clanmates. He wields an extremely long and sharp blade that can slice through nearly anything and can span over a large distance. When he combines this with his ability to manipulate the shadows he becomes an unstoppable opponent. 
Fire Immunity
Due to being half demon, Yami is immune to fire and has the ability to eat, consume, and swallow flames and get stronger. 
Dark Chakra
Due to being half demon, Yami can access the tremendous amount of dark chakra reserves within his inner demon half and grow much stronger than before and achieve a whole new level of power. All of his jutsus become much more powerful too. 
Jutsu List
Chakra Shockwave Slash
Samurai Sabre Technique
Samurai Art: Shadow Control
Samurai Art: Shadow Blades Jutsu
Samurai Art: Shadow Sight Slash Jutsu
Samurai Art: Shadow Execution Blade Jutsu
Samurai Art: Shadowblade Eviscerator Jutsu
Stats
| Stats | Ninjutsu | Taijutsu | Genjutsu | Intelligence | Strength | Speed | Stamina | Hand Seals | Total |
| --- | --- | --- | --- | --- | --- | --- | --- | --- | --- |
| {{{name1}}} | {{{nin1}}} | {{{tai1}}} | {{{gen1}}} | {{{intel1}}} | {{{stren1}}} | {{{speed1}}} | {{{stam1}}} | {{{hands1}}} | {{{tot1}}} |